Hotels & Taverns of the Chapman Valley District
Mining Arms Hotel – Nabawa Tavern
Shepherds from Bowes and Mt Erin stations used to gather in the shade by the Nabawah Pool on Sundays, to exchange gossip and smoke. They also made their way to nearby Mt Erin station where they drank, sang and played cards.
In May 1855 Michael Morrissey appeared before Magistrate William Burges charged with selling spirits at his Mt Erin homestead without a licence. "I only charged for what they had eaten and not for what they drank", he said in his defence. Burges thought otherwise, fining him £25.
The Mining Arms Hotel
The first Hotel in Nabawah, the Mining Arms, opened in 1889, was built by Samuel Hadley Jupp. It was a place for travellers, miners and the shepherds, who worked on the Mt Erin and Bowes pastoral properties, who could obtain service for themselves and their horses. Although the Narra Tarra mine had closed, some of the miners settled locally, creating a demand which Samuel, a bootmaker by trade, soon satisfied. His son-in-law Robert Gould bought it in 1910, ran it himself for a time, then leased it. He sold the hotel in 1939.
Jules Heinsen became the owner late in 1942. Mrs Heinsen recalls making meals for 60 people after cricket matches, her son killing and preparing their own backyard poultry for the table.
Swan beer sold for 1/9d. a bottle, draught beer 6d. per 6 oz. glass.
Jules Heinsen sold to Geraldton Publican Nick Palates in 1950. When it was managed by Cyril and Linda Giltrow.
The Mining Arms Hotel finally closed its doors for business at the end of June 1973 after trading for 84 years. A replacement tavern was opened on the first of July adjacent to the sports ground.
The Nabawa Tavern has recently closed its doors and currently there are no taverns in the Shire of Chapman Valley.h
Owners of the Mining Arms Hotel
1889 to 1910 Samual Hadley Jupp
1910 to 1938 Robert Gould (Son in law to Samual)
1938 to 1942 Charles Gould (Son of Robert)
1942 to 1950 Jules and Harry Heinson. During this time the Heinsons also owned the Protheroe Mine
1950 to 1973 Nick Palatis.
From about 1915 the hotel was leased to various licensees.
The Tavern on the main road was opened when the hotel closed and the first manager was Graham Mabbs.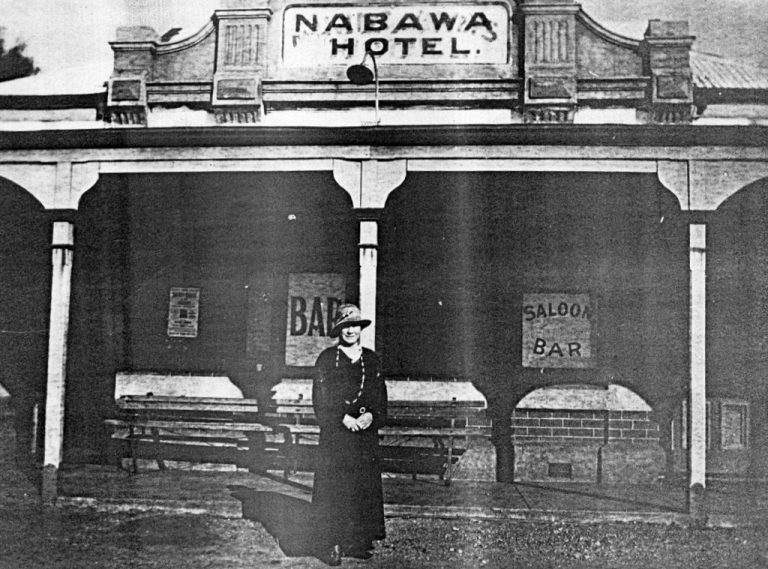 In 1912, the extension of the rail brought sidings to Nolba, Rockwell and Whelarra and the terminus at Yuna. The Plow and Harrow Inn was established in 1917 by Mr and Mrs George Vian at Rockwell. They provided refreshments, meals and overnight accommodation. The Vian's sold the Inn to Archie and Laura Knowles, who then sold it to Antonio and Ann Delmenico and family. Tom and Sylvia Nulsen took over the licence until 1939 when they built the Yuna Hotel and had the licence transferred.
The small community of Rockwell was known as Yuna Well until the name was changed to Rockwell when the railway line was extended to Yuna. The name came from a natural waterhole found in rocks in the area. There was a good supply of water and some farmers from Yuna came by horse and dray to cart water to the farms. 
The Upper Chapman branch of the RSL formed in the 1920s and met at their hall at Rockwell. In the 1940s they moved the hall from Rockwell to Naraling. 
The licence was transferred from the old Rockwell hotel, the Plough and Harrow, to the Yuna Hotel in 1939 and opened its doors on Thursday 29th August 1940.
The West Australian newspaper ran this article on the 28th August 1940
The new Yuna Hotel has been completed. All modern conveniences are installed-refrigeration. electric light, a septic tank system, bathrooms, with bath heaters, etc.
The builder was T P Crothers of Northampton with four other employees: Mr E Hoskin, Mr B Mitchell, Mr Tom Husband and Mr W J "Bill" Gregory.
Plough and Harrow Hotel (Wayside House) and Yuna Hotel Licensees to 1976

A Knowles –
A Delminico – 20 Feb 1928
A J Nulsen – 2 Sep 1948
F S Coxon – 18 Mar 1948
C C Ross – 27 Apr 1954
Nellie Carter – 10 Oct 1955
A H Derbyshire – 13 Apr 1956
Hector Smith – 3 Sep 1957
N E Turner – 16 Mar 1959
D M Turner – 10 Oct 1963
T J Rogers – 12 May 1966
W P Pipkin – 15 Dec 1966
C J Abbott – 18 Aug 1967
A G Lindon – 6 May 1969
L R Burgess – 6 Aug 1974
L J McClintock – 19 Jun 1975
James W Goddard – 13 Oct 1976

In 1977 the hotel was granted a tavern licence and the name changed from the Yuna Hotel to the Yuna Tavern, as there were no longer accommodation facilities.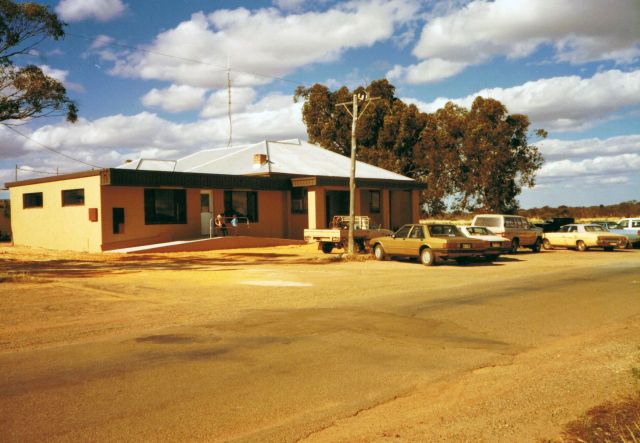 Sources:
In Search of Land by Jayne Vlahov
Municipal Inventory of Heritage Places
Chapman Valley Heritage Trail
Trove online Newspapers