When settlers could claim to have ten or more school age children within three miles of a centre, they were entitled to apply for a school. In the 1900s, small timber framed transportable classrooms were erected by the Public Works Department. The walls were a calcimined canvas with a fly of galvanised roofing over the ceiling – known as 'tent' schools. At a later stage, weatherboard replaced the canvas. Communities could also apply for a grant of up to £150 with which to construct a community hall. In some instances, the hall was used as a school, as well as for social, civic and church purposes – the hall coming under the management of the 'Hall Committee' of the local Progress Association.
The transportable classroom, usually sited on the fenced off corner of a farm block, and at the cross roads, were the feature landmarks of the region, around which the community identified itself.
Accommodation arrangements for the teacher were the responsibility of the parents directly involved with the school. Where the number of children was below ten, parents could operate an S.P.I. sparsely populated District school, employing their own teacher, but guaranteeing an income to the teacher of £60 pa plus board.
In other instances where neighbouring districts had a combined enrollment of 15, a teacher could be shared on a part-time basis, three and two days per week alternatively at each school.
Below are the schools that operated in the District in days gone by from the earliest at Narra Tarra in 1878. Today, there are two schools, Yuna Primary School and the Chapman Valley Primary School.  
1878-1880: NARRA TARRA (MINE)
1878 Opened last quarter Mr J Mills (entered Miles in 1879) Mills 1880 to Greenough South 2
1880 not recorded open
1880-1886: CHAPMAN RIVER
Began in Third Quarter, Mr W Jones, 7 boys, 7 girls. Mr Jones came from Greenough Nth Back Flats
1883 Closed in 3rd Quarter. Held in small inconvenient room of private house
1884 Reopened, Mr Jones 3mths, Mrs E H McAuliffe remainder of year
Mr Jones to Greenough South, Mrs McAuliffe came from Greenough Middle Back Flats
1886 closed Sept because of diminished numbers
1892: NABAWAH
1892 Opened 1st July Teacher Ms W McDonnell (Resigned28/2/93)
1893 Ms Margaret Grover (apptd 1/4/93 to Dec)
1894 Ms Annie Josephine McDonnell Resigned Sept
1895 Sept Ms Marie Toinet
May 1898 Agricultural Hall adjacent to the cemetery half time with Narra Tarra
1905 full time (1908 – 31 pupils)
1913 New School on the hill
1935 Renamed NABAWA
1962 Renamed CHAPMAN VALLEY
1954 Present School opened
A Catholic Church was the first school in the Nabawa area, a rammed-wall building constructed in 1892 by Michael Morrissey of Mount Erin. Then around 1896 an Agricultural Hall was built nearby on land which is now the parking area at the Nabawa Cemetery, and the Government reserved the right to use it as a school.
Mary Twinett, who married George Wells, is understood to have been the first school teacher in the district in charge of the Government School. She had previously taught school at the early church school building. Succeeding pioneer teachers were Miss Winnie McDonald and Miss Mary Grover.
January 1897: OAKABELLA SCHOOL Farm Cottage
Closed September 1898. No Teacher. Reopened April 1899
Closed March 1900. Reopened 1901
Closed August 1901. Reopened July 1902
September 1904 New School Webbs Landing
1910 Renamed HOWATHARRA
Closed 1948
January 1912 Assisted school at Oakabella. Closed May 1912
November 1917 OAKABELLA No 2 SCHOOL. Closed May 1923
May 1898: NARRA TARRA SCHOOL (First at Yetna- William Eastough's workshop) half time with Nabawah
Closed August 1905. Reopened March 1906
Closed December 1906. Reopened Febuary 1911
Renamed YETNA 1917
Closed November 1920 Reopened July 1920
Closed March 1930 Reopened April 1930
Closed December 1939
In the years before 1900 the provision of schools and school teachers presented a real problem. A school was established at Yetna when William Eastough made his old blacksmith's shop available. He had the building in good order for the part time teacher Dan Keyhoe.
The Education Department of the time did provide another building a little later.
1904 Narra Tarra School (Opened 1898 in a Blacksmiths Shop on Eastough's Property. Mr Keho taught at both Narra Tarra and Nabawa on a two and three day weekly rotation)
September 1906: CHAPMAN SCHOOL Research Station paddock. Half time with Isseka
Closed July 1907. Reopened October 1908
Renamed DINDILOA November 1912
September 1932 EAST BOWES SCHOOL (New site)
The Dindiloa School first opened around 1906 and operated until 1919 when it was shifted to the top of Bill Hayward's property about a klm to the north-west. In 1927 it was moved to East Bowes. The shifting schools at that time was a common practice, to cater for population demand. The pepper trees planted in the 1900s can still be seen at this site.
February 1909: MOUNT ERIN SCHOOL Closed April 1938
A group of parents submitted a request to the Education Department in 1907 for the establishment of a school at Mt Erin. Ten acres, block 36 Mt Erin, was set aside for the school site. Plans were drawn up and in October 1908 the contract was let to Mr T Hull for the construction of the school and quarters. By 29 December the buildings were completed at a cost of £507. The school was scheduled to open in January 1909 with Miss E M Hill as the first teacher but it appears that she was sick – the school finally opened in March with Jas H Lilburne as teacher.
January 1911: MOUNT ERIN EAST
1914 half time with Chapman East
1915 Renamed DURAWAH Full time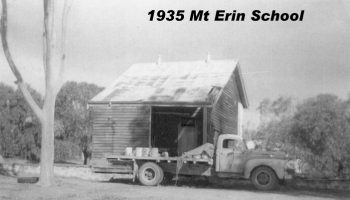 May 1913: NANSON SCHOOL Closed 1943.
The McCartney families were closely associated with the Catholic Church at Nabawa and in the establishment of the Convent school at Nanson.
1940: NANSON PRESENTATION CONVENT
In the late 1930s there were a significant number of Catholic school-aged children living in the Nanson locale to warrant consideration of a school. In 1936, Reserve 21544 was gazetted as a Reserve and vested in the Geraldton Diocese. In early 1938, renowned Priest-Architect Monsignor John Hawes drew up plans for a school building, and the foundation stone for the building was laid by the Bishop of Geraldton, James Patrick O'Collins, on Sunday 13 November 1938. The stone school building was constructed by builder Enrico ('Henry') Boschetti for approximately 650 pounds.
The building was officially blessed and opened by Dr J.P. O'Collins on 29 January 1939. Three Presentation Sisters from the Northampton Convent arrived to live in the adjacent Convent and teach at the new school. In the early 1950s, the Nanson school was modified for use as a church, with the sympathetic addition of a sanctuary and sacristy extending out from the western facade, designed by Summer Hayes & Associates. When classes were held, the church seating was converted into desks and then changed back again for Sunday Mass.
Approximately 30-40 students attended the school at this time. Following a decline in the local population the Presentation Sisters were forced into closing the school in 1965. 
December 1912: CHAPMAN EAST SCHOOL
1914 half time with Mt Erin East
Closed 1914. Reopened May 1924.
Closed December 1924. Reopened April 1927
Closed December 1927
The East Chapman Hall, built by a Mr Carwardine about 1912, was financed by donations from local residents and a loan from the Government. The community used the hall for dances, picture shows, elections and other community events. In 1924 the hall was used as a school, with 12 children attending, but this closed in 1925 through lack of children owing to several families leaving the district. It reopened in 1926 but again closed the following year.
October 1914: NARALING SCHOOL
Closed July 1944
Assisted School in Hall until December 1947
July 1916. YUNA WELL SCHOOL
Parent built building
June 1918 Government school building
Renamed ROCKWELL June 1924 Closed 1928
February 1929 SOUTH YUNA (New site) Closed 1934
1935 MARRAH (New site) Closed after WW 2
The first school in the area was known as Yuna Well School and was started in 1912. Dinny Ahearn who farmed at Rockwell donated a shed in the corner of a paddock to be used as a schoolroom. It is believed a teacher was hired. This arrangement went on for two years. The State Government built a new school in 1914 near the Rockwell Hall, which was on the north side of Yuna Road at Ryan's corner. Because the required amount of children was one short, Ivan Buchanan was sent to school at age four to make up the numbers.
September 1916: PROTHEROE SCHOOL
Closed March 1930
March 1921: BOWES (ESTATE) SCHOOL
Closed December 1922
Reopened March 1923. Closed March 1935
February 1924: YUNA CENTRAL
Closed October 1925. (Situated Forrester Rd)
Reopened April 1931 as YUNA SCHOOL
The Yuna Primary School commenced in 1948 in a hall. On the 9th May 1948 Wandana Yuna Bus Service started. In March 1950 the school moved to its present site.
Closed November 1940. Reopened 1948
April 1926: YUNA EAST SCHOOL
June 1935 Assisted school
Closed December 1936
12th March 1934: WAGGRAKINE SCHOOL
Closed 31st July 1939
Teachers: Jean Webber (Trant)
Flo Speed
The first Waggrakine School opened on March 12th 1934 and closed on July 31st the same year. It was an assisted school, meaning that the Education Department paid a teacher's salary in return for a building being provided.
Local resident Miss Jean Trant had just finished school at the time the idea was proposed, and the Education Department approved her appointment as teacher provided she sat for the first Teacher Certificate. Her father offered a disused building for the school and it was cut in half and moved bodily to its new home on Nanson Road. After three weeks it had 12 pupils, including 7 children from Macedonian families who had established market gardens in the district.
The school closed when a bus was provided to transport children to Geraldton, and nothing remains on the site except part of the foundations and Red Gums that the children planted.
"Our first school at Waggrakine, a couple of miles from home and was opened in the early nineteen thirties. Ringed by gum trees, a new one of which was planted by the children each Arbor Day, it stood by the main road from Geraldton to Nanson, Nabawa and districts beyond. Little better than a shed, it was an "L" shaped building of unlined, corrugated iron with a tiny back verandah and was elevated on short stumps. A rainwater tank at the back supplied our drinking requirements as well as catching the occasional rat."
Sources:
Dates and names of schools researched by John Stokes Chapman Valley Historical Society
Schools of WA by John Rikkers; Battye Library
Chapman Valley Heritage Trail Chapman Valley Historical Society
Chapman Valley Pioneers by P.A McDonnell
Waggrakine School – "Saddle in the Kitchen" by Enga Smith
Shire of Chapman Valley Heritage Inventory 2012
In Search of Land by Jane Vlahov
Miss Una school bus. This was the first school bus purchased by Pat and Bernie Blackmore who lived in the workman's quarters at John Batten's farm when they first came to Yuna around 1950. The bus is parked at the workshop of Woodlands Farm.