In 2015, Barbara Sheilds was awarded Life Membership of the Chapman Valley Historical Society. This story is dedicated to Barbara and her achievements.
Barbara has been a member of the Chapman Valley Historical Society since its inception in 1981. She and husband Vaughan were part of the crowd of 200 who met when the Shire decided to demolish the Road Board Building at Nanson. This icon was saved by "people power" and a meeting saw the formation of the Chapman Valley Historical Society. In 1983 the Shire handed the building to the Historical Society – this small building was the beginning.
Barbara's first official office bearing position was that of Secretary in 1984 and over the years held each of the major roles. Her belief in the Society was shown during 2003 and 2004 when she held President, Secretary and Treasurer Positions – just to keep the Museum running!
Barbara has been President for many years and has seen the Museum grow with new buildings and acquisitions. There's also been a few challenges like seeing a cyclone take off the roof soon after the "Historical Timeline" was mounted on the walls in Room 1, begging and pleading for funding for extra buildings, a new roof and repairs to pressed tin ceiling in the Road Board Office and the painting of the cement floor. Also challenging was applying for Grants as it's only over the past few years we have had the Shire Staff doing this for us.
Fundraising over the years when Grants were few and far between became a necessity for the Society and Barbara was a great motivator for these – an Annual Fair in October, fundraising dinners and luncheons, afternoon teas and District bus tours with herself as the guide all raised much needed funds.
Barbara and Vaughan attended the Museum every Wednesday from 1997 until Vaughan's death in 2010 – Barbara adding and arranging displays while Vaughan was repairing, making, painting and restoring many items in the various rooms.
Barbara had no previous experience in computing or typing but she wasn't going to let that beat her; she just put her mind to it and reproduced the family history sheets, from Austin McDonnell's book, that we see in the white folders around Room 1 and the laminated history and photos on our walls. In 2009 there seemed a need for a souvenir or memento of the Museum and Barbara along with Paige Finci put together a booklet "A Brief History of Chapman Valley" which we sell today.
Barbara is dedicated to the Valley having been born, bred, schooled, farmed and lived here and is passionate about all things "Valley", she firmly believes in the Museum being a showcase for our pioneers, however sometimes she can be swayed when viewing items which are not purely "Chapman Valley" such as the Clarrie Milne Collection, the Humble Wool Press and Rupert Weller's restored engines and of course our Museum is all the better for these.
In the last few years Barbara's health has suffered but even though she has not been visibly active, her wealth of District knowledge is paramount to our Society.
Barbara will be humble and say there were many others who have done great things, but really it was because of her driving force that has seen this Museum expand from the Upper Chapman Road Board Office to the only community based tourist attraction in the Shire of Chapman Valley.
In June 2013, Barbara was granted the Medal of the Order of Australia (OAM) in the Queen's Birthday Honours List for recognition of her community service.
RIP 27 March 2021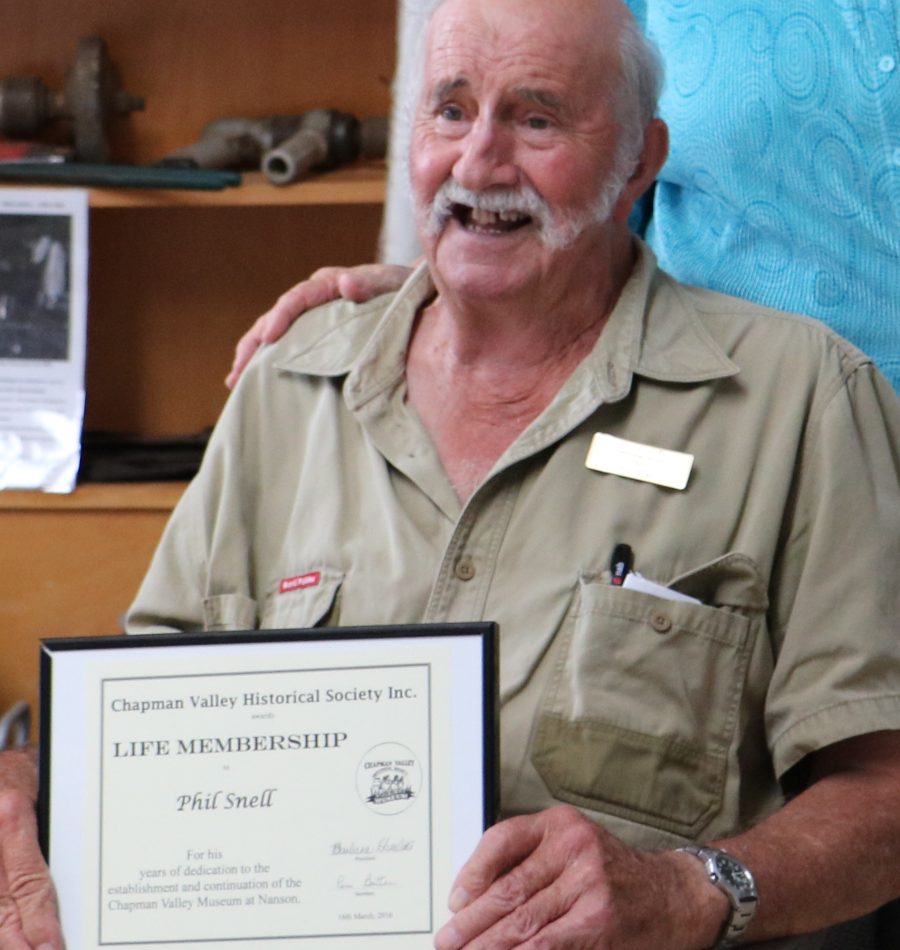 Phil, wife Janet and 3 children arrived in Asutralia from England in 1969. At first the South West of our state beckoned but things didn't work out and on hearing of a small farm at Yetna producing wheat and sheep they moved to Chapman Valley. Phil had been born on a similar farm in England which ran cattle and grew potatoes.
Janet and Phil quickly became part of the community, both enjoyng an association with St Luke's Church at Nanson.
They both attended the public meeting when the Upper Chapman Road Board building was threatened with demolition and were to the forefront when the Chapman Valley Historical Society was formed. When it was deemed a shed was required to house some of the donated machinery, Phil worked alongside Bill Hayward and acquired a shed from Feri Koscis' Fibreglass Company at a bargain price of $2000.
Phil was elected President in 1995 and held this position until 2001. He is involved with the working party every Wednesday and for many years opened the museum to the public on a Sunday. He was dedicated to having the Donor Forms of the items donated to the Museum filled in correctly.
His commitment to the Museum was such that he would attend the Midwest Chapter of Museums meetings held twice each year.
Each week Phil brings fruit cake for morning tea and until recently also saw him arrive with a bottle of milk.
Phil Snell was awarded Life Membership on the 16th March 2016.