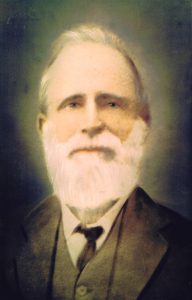 Joseph Cooper, born in May, 1840 in Manchester, England, the son of Richard and Letitia Cooper. On the 26th October 1857, he was convicted of larceny of fixtures and sentenced to 10 years penal servitude arriving in Western Australia aboard the Palmerston, 1st February 1861 from Portland Prison.
On the 11th November 1861 at Fremantle, Joseph was discharged on his Ticket of Leave allowing him to seek employment wherever he chose and to report on regular intervals to the authorities.
In 1863, he was a hut keeper at The Bowes working for William Burges and also lambing at the station. In the 1870's he was working at Mt Erin Station for the Morrissey family and received a Certificate of Freedom on the 10th January 1870 at Champion Bay. Joseph went on to become the general manager of the Morrissey estate "Mt Hill", near Walkaway, "Yarragadee" near Mingenew, "East Brook" Northampton and "Muralgarra" in Yalgoo. 
A story passed down by his children tells of Joseph riding into the Murchison in search of good pastoral lands for Morrissey. When he finally found a well-watered tract, he discovered that another sight-seer also preferred this piece of land and so rode in haste back to Geraldton to secure the lease for Morrissey, to be known as Woolgorong Station adjacent to Yuin Station.
On the 15th November 1880, Joseph married Emily Jane Gray, the daughter of John Benjamin Gray (Parkhurst boy) and Mary nee Petty, at the Ore House, Narra Tarra Mine. Joseph was about 40 years old and Emily 17. They secured their own land west of the Chapman River, south of Nabawa at Narra Tarra, naming their house "Rose Cottage" and went on to have 8 children.
In 1900, Joseph was appointed the first Chairman of the Upper Chapman Farmers and Fruitgrowers Association and was a founding member of the Upper Chapman Roads Board. He operated a store and boarding house at the Narra Tarra Mine with Michael Ronan in 1904 . He died in 1935 aged 95.
Source: Sue White; Di Evans; Chapman Valley Pioneers by P.A. McDonnell