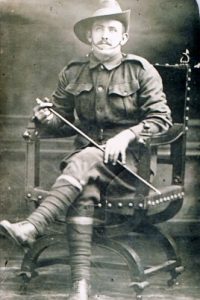 1991, Private Ernest Francis RONAN
Unit: 51st Battalion, 3rd Reinforcements, AIF
Where Born: Narra Tarra via Geraldton, Western Australia
Address: Narra Tarra, via Geraldton
Occupation: Stockman
Religion: Roman Catholic
Marital status: Single
Next of Kin: Mother, Mary Ann Ronan, Narra Tarra, via Geraldton. Then oldest brother Mr J Ronan, Nabawa
Description: Height 5' 7"; weight 149 lbs; chest 35/37"; medium complexion; blue eyes; black hair
War Service: Ernest enlisted on 29 Feb 1916 at Blackboy Hill, WA, aged 29 years 6 months. He embarked 18 Jul 1916 per HMAT Seang Bee from Fremantle, WA and disembarked at Plymouth, England 09 Sep 1916. On 26 Nov 1916, Ernest proceeded from Folkestone, England to France per Prince Henrietta. On 30 Nov 1916, he marched in to Etaples and 13 Dec 1916 he joined his unit and was taken on strength. The Battle of Messines, 07-12 Jun 1917, involved Australian Infantry Force troops in a major British thrust to force the Germans to withdraw from main battlements of Vimy-Arras. There were many casualties on both sides, but a successful action for the British, Australian and New Zealand troops. It was in this action that Ernest lost his life, lying still, like so many others in an unknown grave.
Killed in Action: 10 Jun 1917 at Messines, Belgium, aged 30 years
Memorial: Menin Gate Memorial, Ypres, Belgium
Medals: British War Medal, Victory Medal
Military Connections: Brother,1636, Private Timothy Edward RONAN, 32nd Battalion, returned to Australia, 08 May 1919.